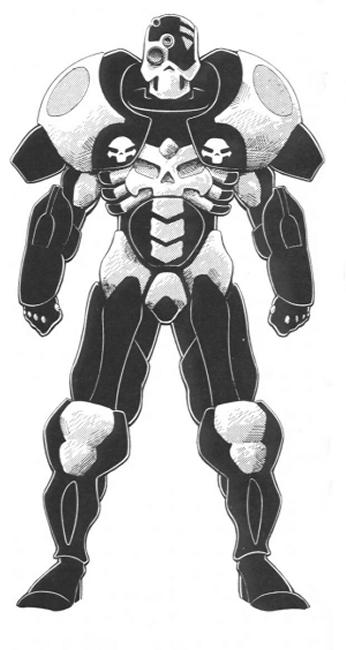 THE ZETATECH HEAVY ASSAULT DROID
The AI is linked to all of it`s robots so it can see/hear what they
see/hear. The AI can also use them as an extension of itself if required.
The link does however, tax the AIs "processing power", so the
robots have their own subroutines (INT) and go about their business,
alerting the AI if someting notable happens.
Stats:
Location:
SP
SDP
"Skills"
INT
3
Head
30
25
Rifle
4
REF
12
Torso
40
50
Submachinegun
4
BOD
22
Arms
30
35
Handgun
4
COOL
N/A
Legs
30
35
Brawling
4
MA
18
CYBERNETICS:
Melee
4
TEK
0
Cyberaudio (AH,RL,SC,EH), Cyberoptics (TE,TH,TA,IR,AD), Rippers, EMP-shields, Interface plugs w/appropriate link, chipsocket.
EMP
0
ATTR
N/A
The robots can use any hand-held weapon, usually a heavy machinegun.
No built-in weapons other than what is listed in cybernetics.
All Zetatech issued weapons are smartchipped specifically for the robots.